Restoring Strength and Beauty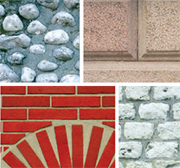 Strength and beauty. It's a combination that has made brick a preferred building material for thousands of years.
But time and weather take their toll on even the strongest, most well-constructed buildings. The mortar that holds the bricks in place breaks down and becomes porous, allowing moisture to seep through and cause damage.
Whether you're seeking to prevent or repair water damage, you can rely on Statewide RM's in-depth experience and craftsmanship to protect your buildings.
At Statewide, we restore masonry, but in doing so, we will also restore the strength and beauty of your property, enhancing its value.
. . .
"Skilled craftsmen, careful attention to every detail and use of the finest materials are all accompanied by a commitment to outstanding client service."

—Kieran Fitzgibbon, Owner
New COVID-19 Safety Precautions
Statewide RM has taken the following steps to ensure your safety:
Statewide RM employees and its subcontractors are trained to follow CDC guidelines.
Our employees will be equipped with the necessary protective gear.
We are also submitting site-specific COVID-19 health and safety plans, as required by all municipalities as part of the permitting process.
Subcontractors and suppliers delivering on site will be monitored and expected to adhere to social distancing and hygiene standards.
Along with quality, safety for our employees and the people they come in contact with has always been a top priority at Statewide. We are accustomed to following strict safety and regulatory standards, ranging from OSHA and DEP regulations to historical preservation requirements.
So if there is work to be done, let us know how we can serve you — safely.